Behind the New Showstopping Collection from Lisa McDennon
With an eye for organic design and sculptural silhouettes, Lisa McDennon brings a distinctive perspective to her Hinkley lighting pieces. This year, she continues to expand the Lisa McDennon Collection with brand new families and additions to existing lines. We caught up with Lisa to hear more about her 2022 product launch and the inspiration behind her work.
Tell us about this new release!
"This is an exciting and diverse release, and I'm excited about continuing to expand the collection with more design styles and expanding the use and mixture of various materials and finishes! I am also looking forward to seeing how these designs will be incorporated into interior projects – it's like icing on the cake when I see my designs featured in actual installations."
---
Q + A
Could you walk us through some of your new pieces?
FLORA is an organic ethereal chandelier with delicate branching leaf and floral motif; fresh, crisp, elegant and modern with the versatility to be used in a variety of interiors. I could see this in a coastal master bedroom, or over a formal dark stained wood dining table, or even in an eclectic vintage-inspired living room with layers of rich fabrics and wall coverings. Available in matte white and burnished brass finishes.

GILDA is a new collection of transitional sconces available in two finishes, showcasing an elongated oval backplate in beautiful veined white or black honed marble, accentuated by a detailed stepped brass collar and rivets, and large glass globe. The concept for this design was to create something tailored and modern with a historical nod. I imagine these installed in a bar, library, or as elegant bedside lamps.
---
How would you describe your design style?
"For being an interior designer, I don't just have one particular aesthetic that I design within. My interiors are not cookie cutter. We really like to listen to the client and be able to help almost be like a personal stylist and really understand their personality and their lifestyle and the architecture of the home. In a way I think that in itself translates to my lighting collection. Not everything is modern. Not everything is coastal. You can see with the Echelon collection, its roots are very Art Deco."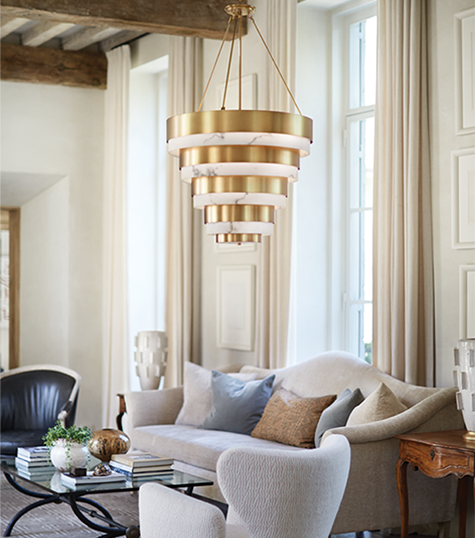 ECHELON
Breathing inspiration drawn from the classic style of Art Deco, Echelon is a multi-tier style in a gleaming Heritage Brass finish.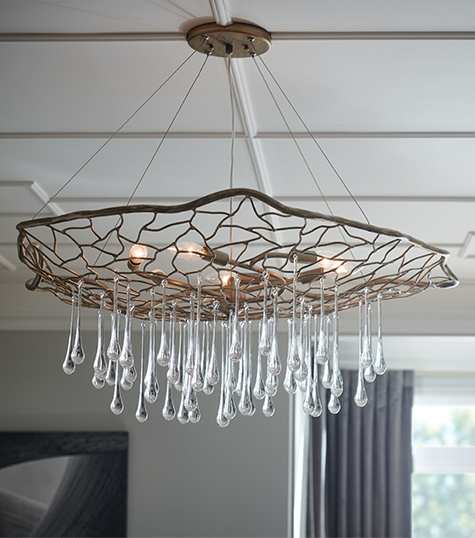 The Laguna is modern and really set for more of a traditional, glamorous interior. I think there's a width and a breadth to the collection. I like the ability to play in that and I like the idea that the lighting collection and the pieces themselves have their own flexibility to be able to be interpreted and manipulated by the end user depending upon their application.
---
How has the Lisa McDennon collection evolved since you launched in 2018?
Over the years it's continued to grow, and I do feel that Hinkley has allowed me the opportunity to express my creativity in a variety of different ways. In working with Hinkley, they've also expanded their manufacturing resources in order to accommodate the designs that I'm creating because I'm pushing the boundaries with materials. One of the really benchmark elements of my collection is utilizing unique materials and combining and juxtaposing materials together within a fixture—for example, using spun metal and fabric cords, using suede, linen, acrylic, hair on hide—just all different kinds of materials mixed together. I think their ability to source the more unique elements within the fixtures is also allowing us to really expand the designs.
---
Where do you find inspiration for your lighting collection?
I live steps from the beach and walk several miles every morning along the coastline and I always have my phone at the ready, taking pictures of everything. Maybe it's moss on the rocks on the beach, or movement in the sand or palm trees or a patterned grate on a street drain. I'm constantly graciously absorbing new things. I'm just a seeker. I'm always looking and sourcing and gathering inspiration ideas from pretty much everything.
---
Looking for more? Speak to our team today!